TREERUNNER IS HIRING FOR THE SEASON!
TreeRunner offers seasonal positions that will make lasting memories. If you enjoy working in a woodland setting, like to lead and coach visitors as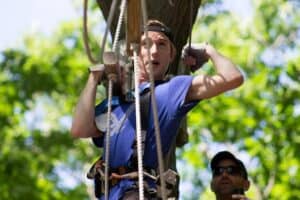 they climb through our aerial challenges and would enjoy zip lining through the forest, then this is the job for you!
We offer competitive wages with incentives for those pre-certified in First Aid, CPR or as a Responder. A position on our team will reward you with an aesthetic, natural work environment, exciting challenges and a cohesive, motivated team of fun people! Positions are open in the trees, guest services or business office. Check us out now! Employment begins in mid-April.
JOB DESCRIPTIONS
Please ensure that you are able to work four to five days a week, in all kinds of weather, mid-March through November. An ideal candidate can work a few days during the week, and at least TWO weekend days, Friday through Sunday. Shifts are scheduled Monday through Sunday, as early as 7am to as late as 11pm, with the later shifts falling on Fridays, Saturdays and special event nights. Please download the full job description page below for more details on the positions we offer.
INTERESTED? CHOOSE A LOCATION TO APPLY.